this morning – bright & early was day numero two of my crossfit fundamentals training
today's lesson of the day: you think you know how to squat – oh you're wrong.
since yesterday was mainly upper-body focused with the overhead progressions – i had a feeling that today would be lower body focused – so when i walked in and coach matt announced "today we're doing squats!" i was pretty excited
SQUATTER-DAY. literally. HA!
we jumped right into it with a quick warm-up of burpees, jumping jacks, high knees & butt kicks and then we stretched and tested my flexibility
we also did a quick run through of everything i learned yesterday – to make sure that i didn't forget everything – because my memory is like that of a dart's
surprise – surprise coach! i am quite flexible which i believe gave me bonus points – aka we could work through the exercises at a wee bit more advanced pace – YAY.
just like yesterday we started out every move with a pvc pole (side note: whenever i see these i always think about the game horse balls..)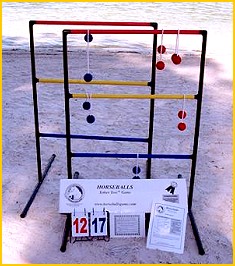 I DIGRESS. anyways – today we were going to work on air squats, back squats, front squats and bum bum bum – my biggest fear – overhead squats
contrary to popular belief – and as matt told me most crossfit coaches (he said usually the older ones with joint problems disagree – ha ha) focus on the 'ass to the grass' squat form – especially if their clients have good flexibility (YAY me!) so today as we went through the squat types we would focus on getting my 'ass to the grass' and challenging myself – yet always maintaining good form
air squats – basically exactly what it sounds like – an air. squat.
side note: watching this video – i realize how slow i was this morning. WHOOPSIES!
next up (still with the pvc pole) – back squats
keeping form was crucial with back squats - the main focus with my squat form – which stayed consistent through the training session – was making sure the front of my body stayed upright and my knees were not pushing past my feet – this is challenging, hard & no joke when it comes to 'ass to the grass' squats
this is a great source on proper back squat form – especially noting the fact that the full range of motion is several inches below parallel.
moving on with the pvc pole we went straight into front squats
thank the good lord & tara because i had worked so hard on my front squat – i already had pretty good bar set-up and form with the front squat – now it was just my focus of getting that full range of motion AND maintaining form
this will be me someday.
good explanation of crossfit style front squats here
finally with all of my fears aside it was time to move on to the overhead squat – where i announced "i'm deathly afraid of these" and coach matt said – "well it's a good thing we're here!"
it actually ended up being not as hard as i had anticipated! i was glad i had my squat & front squat form down – and matt had a really good tips on staying strong in the upper body and keeping that the focus – the squat would come but i had to make sure my shoulders were locked tight
he also taught me how to drop the weight in case i couldn't get back up – hah which i anticipated using at some point in my 'crossfit career'
i could feel my core crumbling at the seems.
then we moved on to adding weight – a blow to the 'ego' but not really because i understood that weight wasn't important until form was. we worked through each exercise with added weight – about 45lbs total.
i am going to be a sore mother-effer tomorrow – it was about 45 minutes of squats, squats & more squats –using different techniques to keep form. – KEEP your body straight julie!
finally – because we were making such good strides we moved onto – bum bum bum – the snatch
the snatch was SUPER fun – i really enjoyed this lift – and i can't wait to progress through it
the main thing i learned when working through all of these lifts was that they all came full-circle in that they relate to each other – all kind of back to the press – keeping your body and core strong and maintaining form
i was amped – we were going to have enough time for a WOD but FIRST we ran through 'american style' kettlebell swings
coach matt was impressed that i already knew how to do kettlebell swings – but i was used to doing 'russian' style kettlebell swings
russian style swings
american style swings
this is a great article that explains the difference
WOO HOO! time to end the session with a WOD. got my clipboard and we were at it!
oh boy this was hard! the burpees killed me and getting my 'ass to the grass' was super challenging – finished with 5 rounds and 5 burpees with 1 back squat. OOF. i said to coach matt "that was hard!" hah – which i'm sure he was like 'honey child that ain't nuttin'
on another side note: to be honest i never would have been able to move through this session so efficiently if i hadn't been virtually training with tara for over a year now – since she came into my life and totally changed my training style i would have had negative idea what i was doing – or probably no interest in this olympic/crossfit style of training.
i'm so in love with crossfit.
as tim mcgraw would say "truck YEAH."
that is all for today. off to run LOTS of errands before that good old snow comes-a-down.
love to love you <3
-julie