it's award show season
it's one of my FAVORITE times of the year – i just love it – the dresses – the celebrities – the red carpet
i'll even sacrafice a night of bravo television to watch award shows
the thing is – 99% of the time i have no idea who's nominated, what they're nominated for, usually i don't even know what movies are playing
i leave that up to jenna. she loves movies – me? i don't really care about them
what i do care about? whether or not kim kardashian is divorced yet, if staci is going to officially break up with that douchey 30 year old on vanderpump rules, whether or not sean is going to get rid of the physco girls in the next couple of episodes, and when the hell i am going to be able to apply for a real housewife of somewhere role…
so back to award show season
i love the red carpet – LOVE it. even more than that – i love the episode of fashion police the night following the award show
sorry i'm not sorry.
anyways – we all know that girls HAVE to have snacks when they watch their shows at night
i'm about to embark on a 21-day sugar detox
there i said it.
i hate putting things like that out there.
but i'm going to do it.
because i, julie pape – have an addiction to stevia.
anyways – this 21-day sugar detox is certainly not going to keep me from enjoying a figure friendly & compliant treat when i'm snuggling up in blankets with ryan seacrest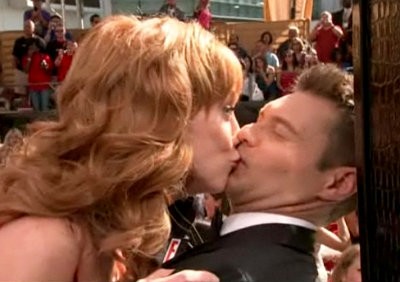 and my favorite dark chocolate is 'forbidden' for 21 days
not to mention i'll be putting away the parmesan cheese, heavy whipping cream & peanut butter – but hey we can do anything for 21 days – right?
ANYWAYS more on that another time – but let's get back to awards show season
so like a good, sneaky little devil child – i came up on a whim with this tiny treat that hits the spot
i actually came up with it last night – i was almond buttered out – i overdosed throughout the day – and just really didn't feel like it
and at some point in the afternoon i had half an open avocado and on a whim i mixed in 1-2T of extra dark chocolate with the mashed avocado
it's freaking delicious BTW…
anyways – if you want this recipe – then you have to make your chocolate avocado spread first.
simple – mix avocado & extra dark unsweetened cocoa powder together – i used one whole avocado and about 1 1/2-2 tablespoons of cocoa powder
mix mix mix
boom. looks like doody – tastes delicious
then here we go.
side note: this is grain free, dairy free, nut free, it's basically FREE.
single lady secret microwave chocolate treat
2T extra dark unsweetened cocoa powder
1T unsweetened coconut flakes
2T chocolate avocado spread
1 egg white
1 tsp cinnamon
1 tsp baking powder
~1T water or until it makes it smooth
spray a small microwave safe ramekin or bowl with non stick cooking spray (or rub with melted coconut oil) combine all of the above ingredients – mixing thoroughly – and then mashing down to a small cookie like shape – scrape down the sides & don't forget to lick your spoon
microwave on high for 2 minutes
burn your hands when you take the bowl out – or be smart and take out bowl using a oven safe mitt
plate on paper plate & INHALE. you can also go topping crazy – coconut butter, almond butter, peanut butter, more chocolate avocado spread…
whatever your heart desires. – go for it.
love to love you <3
-julie